Launching a new product into the market is no easy task. The immense competition forces manufacturers to strive for the highest quality standards to remain a preferred choice amongst customers. 
The automotive industry is no stranger when it comes to this scenario. Before a vehicle hits the showroom for customers to test drive, manufacturers must have the highest level of assurance regarding its quality and expected performance. 
In typical product development and launch scenarios within an automotive organization, several questions need to be answered by different stakeholders like validation designers, validation engineers, test planners, test engineers, facility engineers, etc.
Some of the most prominent concerns expressed by these personnel deal with:
Unification of engineering data between multiple teams for standard data analysis
Achieving synergy between different functional teams so that improvements in validation realized along the way are connected to save time
Managing validation data or test data for use in model-based system engineering
Connecting validation data to an industrial workflow
Bridging gaps between stakeholders in the entire value chain of validation processes.
If you look closely, most of the concerns that different stakeholders have are related to data and process management in the product validation stage.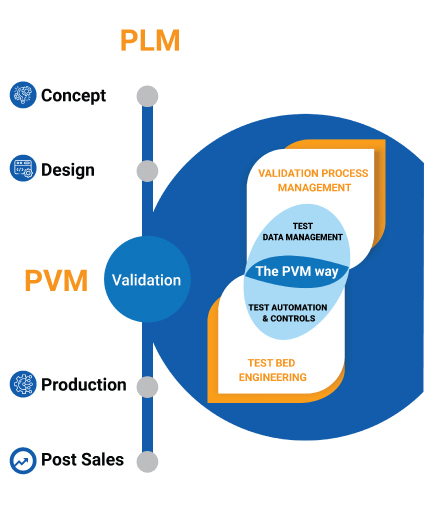 Enter Product Validation Management
The aforementioned brings the focus on Product Validation Management (PVM) in the automotive sector. A PVM-based approach enables automotive manufacturers to unify cross-functional domain teams by leveraging engineering metadata.
It focuses on transitioning validation into a knowledge creation exercise with due diligence and process-oriented execution. PVM manages the data acquisition, sorting, and management initiatives and creates a framework for all stakeholders to converge and work collaboratively towards achieving better end-product quality.
Such an approach accrues numerous benefits for all stakeholders involved. To that end, let us examine what PVM means for major stakeholders in an automotive manufacturing enterprise:
1. Eliminate Non-Productive Work for Engineers
For engineers, one of the major daily challenges they face is the time spent on unproductive activities like data acquisition and compilation. This data stream involves hundreds or thousands of contributing elements from a product launch testing perspective.
Manual compilation of this data is a Herculean task and results in overheads and ultimately reduces the time for core, productive jobs. When a PVM approach is followed, the otherwise arduous tasks are taken care of, allowing engineers to invest time in handling more critical responsibilities pertaining to product design validation.
2. Accountability of Testing Infrastructure
Facility managers often face pressure to keep test environments available for ready use by validation teams. However, requests may come in dynamically and without warning. This leaves a lot of room for errors, and ultimately visibility of the testing infrastructure may be affected. 
This may lead to wrong validation insights that can escalate into serious product issues post market launch if it isn't caught in the validation process. By introducing PVM, facility managers can relieve most of their pressure as assets get more accountability and visibility. This will directly translate into better utilization and efficiency of the facility with proper planning and scheduling according to defined processes.
3. Streamline Validation Management
Validation Experts race against time to help different stakeholders complete testing and validation cycles faster. The shorter the time, the easier the path to market launch. 
However, in a distributed environment, program managers are often in a tight spot because of the inability to handle differences in views on the same measurement data in simulation and real testing. This should be eliminated at all costs. 
Enter PVM, and program managers can easily integrate simulation and real testing to help complete the validation program in the shortest time frame. With seamless integration, they can easily manage different views of the same measurement data, such as software designer view, system requirement view, system designer view, mechanical designer point of view, etc.
Such a metadata dictionary serves as a common repository for the data that's being collected in the validation operation, ensuring all engineers, design, researchers, and test validation teams have access to the same information.
It also helps the downstream vendors understand their engineering data requirements to communicate their inputs effectively. 
4. Easier Maintenance for IT teams
PVM culture entails bringing different sets of activities in the product validation phase under an umbrella framework. This enables easier management and maintenance from an IT department standpoint. With easy maintenance, development, and continuous enhancement, enterprises can achieve tremendous cost and time saving. The IT function can take a more strategic role. 
Additionally, enhancements and upgrades can be easily plugged in within the framework with minimal disruption. PVM approach also empowers automotive manufacturers to enable data reuse between different functional teams at different levels involved in the validation program.
Enabling collaborative success in product validation, especially when multi-disciplinary teams work on the product, is a trait that can define market success for most automotive brands today. 
Enabling easy data standardization, flexible program management, and process control, PVM creates the framework for successful product launches. Apart from the stakeholders mentioned in this article, the PVM approach empowers other teams as well by allowing them to make data-driven decisions
To get the best ROI, automotive manufacturers need to embrace digitization in their PVM strategy. By bringing in end-to-end automation, and lifecycle management for PVM, iASYS's BRIX platform can be the perfect choice for automotive manufacturers to step into their PVM journey. Get in touch with us to know more.