Automation & Control Systems
Orbit is a platform that assists OEMs to test their engines/vehicle/motor
performance, durability, emissions, and other parameters.
Orbit Automation software can test anything from two-wheeler engines to heavy-duty
engines. All types of testing are possible through our automation system.
Automation & Control Systems
Bringing you one step closer to make India the world wide center of EV revolution.
We offer one-stop- solution for E- mobility testing requirements.
Importance of Automation system in Automobile Industry
The powertrain's electrication and hybridization, along with the combustion engine's optimization, are ongoing efforts to comply with the world's stringent CO2 regulations. To ensure virtualized software development and test execution on the test bed the management of complex tasks necessitates the utilization of an advanced and state-of-the-art test environment is essential
iASYS-based orbit automation platform follows all the international industry standard for testbed automation systems that certify both traditional and electric powertrains. Our advanced industry-leading automation solution ensures standardized and adaptable testbed configurations assures enabling seamless integration and is easily expanded to accommodate contemporary testing methodologies.
Let's Check how iASYS's Orbit can help
iASYS – Orbit provides outstanding functionality for real-time validation while delivering a simple way to configure testbed parameters. Our software solution's cutting-edge user interface, which provides exceptional usability and adaptability, is at its core.
Moreover, Orbit stands as a robust, reliable, and scalable system. We continually enhance its features to encompass innovative powertrain ideas, such as fuel cell systems, e-motors, E-axle, and inverter test settings. This enables our customers to swiftly adapt to current and future demands, providing them with the agility needed to excel in their respective industries.
Orbit E - Engine Testing Host
The most efficient powertrains require tougher worldwide emissions regulations & in order to meet these demands in the global market, we need to do it in less time span in order to satisfy international market requirements. OEMs are integrating the benefits of Internal Combustion (IC) Engines and e-motors in hybrid powertrains to balance both elements. We have developed the ORBIT-E test systems for Performance and Emission to aid in the development of hybrid powertrains.
iASYS Orbit-E is an extremely customized platform that can adopt various requirements according to customer needs. To achieve accurate measurements, it is necessary to have a testing environment that has been set up in a way that meets the user's specific needs and objectives. The iASYS orbit-E is engineered with a high degree of configurability, enabling it to accommodate different needs regarding system performance and emissions. This adaptability ensures that it will remain relevant and effective even as emission regulations and market demands evolve over time.
Orbit EV : Test Automation System
The electric vehicle validation life cycle is a dynamic process that ranges from component validation to on-road vehicle validation. To support the Electric vehicle innovators at every stage of their development, EV validation solutions were created, providing integrated data and a digital engineering approach.
Our platform, the Orbit-EV, is designed to meet the needs of OEMs, component suppliers, and startups and customers. It supports the extensive validation of all powertrain components, including the Motor, Motor controller, Battery, E-axle (for 3W to commercial vehicles), and Transmission for 2W.
The platform also includes virtual validation capabilities, such as motor simulation, battery simulation, road load simulation, vehicle simulation, and driver behavior simulation. In addition, the Orbit-EV platform supports interfaces for various environment simulators, battery simulators, battery-charge discharge controllers, inverter simulators, CAN simulators, Motor simulators, Grid simulators, Robot-type driver simulators, and Dyno-based Road load simulators. These components are critical for field scenario simulation inside the rig.
Orbit V : Chassis Dyno Automation System
Prior to road approval vehicles must undergo extensive testing and certification procedures. These procedures include measuring fuel consumption and exhaust emissions (or electric energy for hybrid vehicles) using a chassis dynamometer. Certification and validation have been challenging tasks for Internal Combustion (IC) engine vehicles for a long time, and now this applies to Electric Vehicles (EVs) as well.
At iASYS, we excel in the road-to-Rig approach for vehicle testing and validation. Our advanced automation system, Orbit-V, is specifically designed to simulate a comprehensive range of road-level conditions within your test cell. By utilizing Orbit-V, we streamline the process of achieving emission compliance, making it more efficient and effective than ever before.
To achieve excellent system performance, we have developed an exclusive RTOS base controller that can be used for different applications such as measuring vehicle performance, mileage, and acceleration.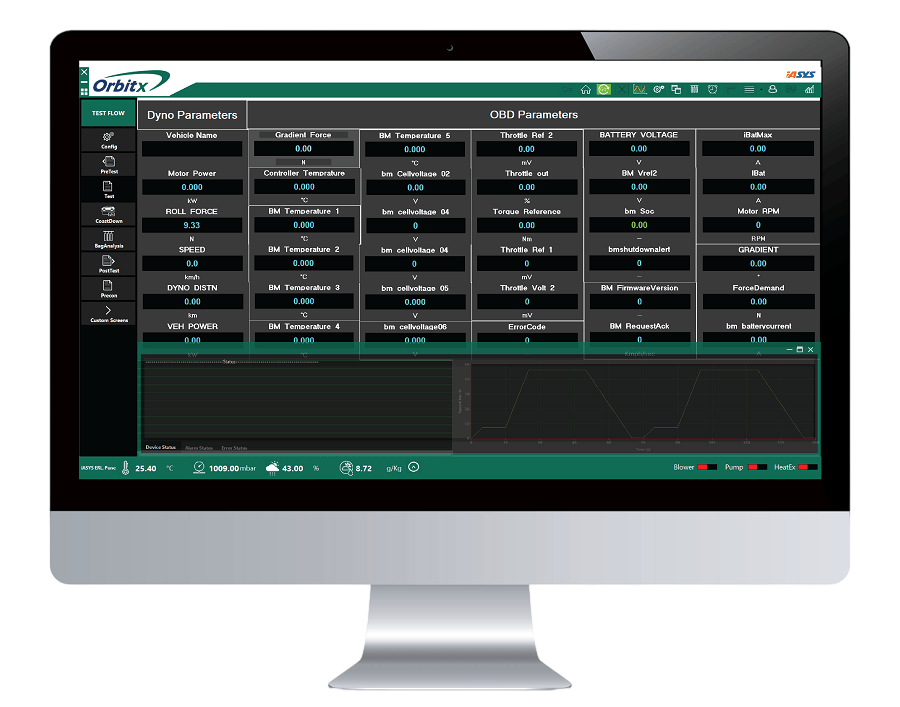 Orbit X : Chassis Emission Host
The Orbit-X Vehicle Emission Test Solutions seamlessly integrates with all third-party Driver's Aid & Emission Host devices, systems, and infrastructure. Our automated system adeptly handles various technical requirements and meets worldwide emission regulations for the European, US, Indian, and Japanese markets. We offer both customized options and standard solutions to suit our customers' needs.
Our integration covers a wide range of testing equipment, including Micro Mog, Chassis dyno, CVS, PN Counter, PM sampling, Micro soot sensor, NMOG, NH3 analyzer, FTIR, diluted exhaust gas sampling and analysis exhaust emission monitoring systems, particulate mass sampling and particle counting systems, as well as opacity smoke measuring devices.
The repository system is a comprehensive software solution engineered to optimize and streamline the various stages of the test cycles, specifically the User Under Test (UUT) definition, Electronic Control Unit (ECU) definition, and related processes, all from a centralized location. This system offers unparalleled convenience to users by enabling them to efficiently manage repetitive tasks associated with metadata definition through a unified platform. From a technical standpoint, the repository system leverages advanced software architecture and database management techniques to enable effcient storage, retrieval, and manipulation of metadata associated with UUT definition, ECU definition, and other related information. It employs robust data structures and algorithms to ensure fast and accurate retrieval of test data, facilitating quick decision-making and problem-solving during the testing phase. The central browser utility helps the user to view test data from the central station. The overall system serves as a centralized platform to ensure effective coordination & optimization of the testing process.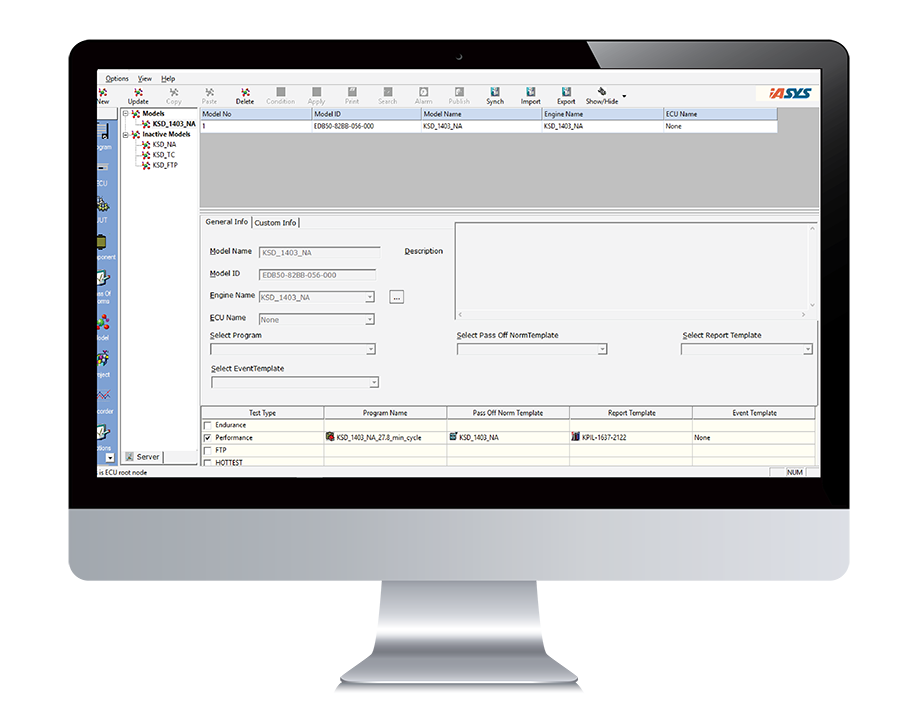 Solution Documents
Product Leaflet
Case Study
Blog
Solution Documents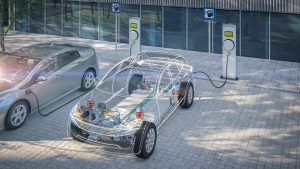 To support EV Ecosystem, iASYS offers validation and verification solutions from element level to On-Road validation.
Read More »
Product Leaflet
Case Study
Blog