Significance of Data management and standardization
An organized person is always appreciated for his management skills. No matter what but this one particular habit can save one from stepping into multiple chaos. Proper management and organization help in minimizing despairing situations along with offering double edged experience. In addition, being prepared for unpredictable situations also leads to improve oneself thereby helping you to become more productive.
Data management and standardization work similarly to this. The importance of data management and standardization is increasing as people are highly prioritizing it. At the same time, the rising awareness regarding data management is further leveling up its demand in the market. The world has been through various revolutions thereby offering advanced technologies and functions. Every developed area, therefore require data management and standardization to keep tact. Owing to all these, various companies and organizations are coming forward with new solutions and products. And undeniably, this effort somewhere or the other is also getting successful to a certain extent. However, the major challenge faced by almost every company is to understand that single data management solution is not enough to solve multiple problems at a time. There are various other important aspects needed to provide successful services. This article, therefore, aims to explain all these aspects.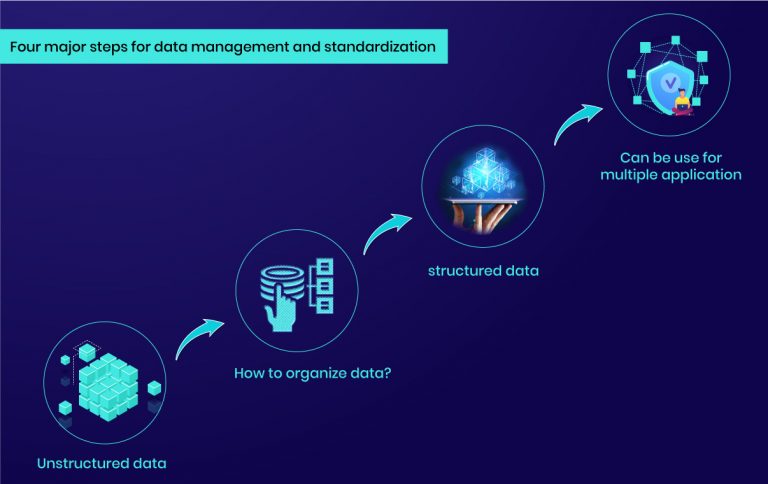 Closer observation and a deep understanding
Every problem has a different solution. And to provide a particular solution, one needs to have a closer observation on the problem as well as the operating procedures. This includes an overlook of data collection, techniques of data collection, and changes in its adoption capacity. Along with this, understanding other problems associated with the customer's traditional data operating procedure would also be helpful in order to provide effective solutions.
Step by step transformation
Data standardization, moreover, works differently for different problems and customers. For instance, replacing the traditional working system of a company with a whole new working system can be challenging. In addition, it would be difficult and time taking for both the employees and management to coup with it. However, following the whole process step by step can be more helpful. Also, it is sometimes difficult for the employees to adapt a new data standardization product based on different format.
Importance of data in terms of volume
Apart from these, data also plays a crucial role in terms of volume. And therefore, the data management and standardization solutions also required to be useful in terms of different volume of data. Furthermore, the customers demand for organized data linked with metadata and equipment data for future references. However, metadata is different depending on different customers. The data management solution, therefore, also requires to fulfil the need of being capable for such challenges. Moreover, a perfect solutions for data management and standardization needs to be adaptable and equally effective at least in most of the situations if not in all.
Interactive and manageable solutions
Undeniably, it is difficult to understand the requirements of every customer at a single point. And hence, one solution is not enough for multiple needs. At the same time, customers at certain point also prefer to integrate different solutions. The solution therefore, also requires to be interactive with other systems in such conditions. Nevertheless, the management and training offered to the labor-force also acts as an important part of the whole process. This is not it, there are various other unknown problems that may occur without a hint and the solution therefore requires to be manageable if not in all the problems, at least in the aforesaid challenges and problems.
We want to support our customers
This is basically the area, where we want to support our customers. Our team at iASYS BRIX are working hard to bring out to you products and services that can assure our customers to have a safe future experiences and support in the hour of need. Our team at iASYS aims to provide enterprise scalable products. With an innate trust in our platform-based architecture, we can assure rapid development, stress-free change adaptability, integrity, and most importantly quality.
Our platform is manageable by Representational State Transfer Application Programming Interface (REST) services for different studies and tools in the market. In addition, our team has also worked on identifying the areas that require repetitive development along with offering a reusable graphical user interface (GUI) plus backend. Which can help the customers to easily integrate with product, application, and project. Moreover, it offers rapid advancement in rarer resources without compromising its quality. iASYS BRIX believes in constant development processes in order to remain competitive in the market.
Followed by a legal compliance with Association for Standardization of Automation and Measuring Systems (ASAM ODS), we intent to offer our customers standard data management services coupled with our experienced team. Furthermore, we also provide customized services and required training to our customers in order to motivate them for using new practices of data management.
The growing technological advancement, moreover, is also leading to increase the competition in the industry. And developing and deploying the products by adapting all the fluctuations and challenges is not an easy task in such situations. Adaption of new technologies in a product requires a lot of efforts. It needs a thorough understanding of concepts and its actual advantages, its sustainability, and most importantly its long term support and updates. Furthermore, it also needs trained manpower to manage the whole process for longer run. In this case, selecting an unsuitable technology can lead to failures.
But, we at iASYS, makes assure to support our customers regardless. We are committed to them for providing new technological updates at every point of time in our platforms and products. With our hard work and research we make sure to be aware of recent market trends and technologies. And we try our best bring out an exact architecture that is demanded by our customers.
Since the whole world is now switching towards cloud platforms and companies are aiming to offer latest software services to their customers. Our team is also initiating towards contributing a little to change the world thereby coming up with advanced products. Presently, we are working on Distributed Brix Solution for the management of high volume data. Along with this, we are also aiming to bring better-integrated solutions with python libraries for analyzing data, customized report generating solutions, and more. Along with this, we are also working on data management solutions associated with autonomous driving with technologies like Carla.
A long term solutions requires hard work and huge efforts. However, challenges such as its adaption in traditional ways acts quite stubborn. And at the end changing everything at once is not next to possible. But, on the other hand, putting your efforts continuously in one direction can lead to another successful story. Offering solutions step by step would not be difficult for achieving final goals. Moreover, sometimes its easier to adapt technological solutions, but dealing with a complete new process psychologically can be tough and time taking. Nevertheless, a continuous support for development, trained manpower, and customer centric attitude always works as a key. And since we at iASYS always believe in "Do well by Doing better". So, with all the hard work and aim to bring a little change in the world we would like to present innate desire to provide the best solutions for data management and standardization.